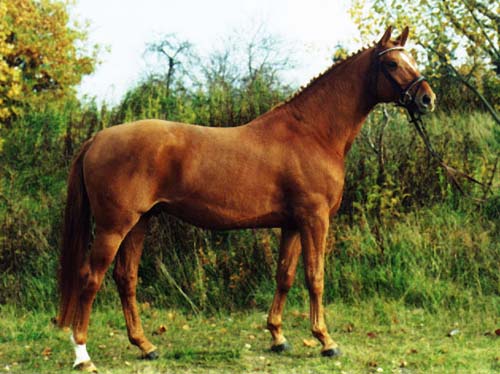 Heling
Sire Bukephalos
Dam Halima
Dam Sire Consul
Color Chestnut
Height 16.1 1/2 hands
Location Markham
Foaled May 27, 1989
Sex Colt
Based on mare inspection results, HELING is one of the very top stallions in the Trakehner Verband. He is # 1 in the breed for producing walk, he is # 2 for producing overall gaits (combined walk/trot/canter), and # 2 for increasing on mares height. His overall high marks led to his being featured in "Trakehner Hefte" – March 2000 edition.
HELING is the sire of the 1999 Reserve Champion mare in Schleswig-Holstein. His sire, BUKEPHALOS, was an international 3-Day Event horse, and is the sire of the very successful stallion HEINZELMANN (Storyteller), a top winning hunter, and sire of some of the winningest young line horses in Canada. HEINZELMANN is currently ranked in the top 20 of the AHSA national standings, in the Amateur/Owner Hunter division – he was also the Circuit Champion for the 2001 Winter Equestrian Festival, Wellington, FL.
HELING's grandsire, CONSUL, has been a leading Trakehner sire in Germany over the past two decades, with many of his offspring now competing at Grand Prix Dressage and higher level Event horses.
HELING's dam, HALIMA, is the dam of HEIDSIECK, a young 3 year old stallion who was one of the highest priced sale horses at the 2000 Klosterhof Medingen Auction – selling for 90,000 DM (about $45,000 US).
Official comments from the Trakehner Verband Stallion book – "The first approved son of Bukephalos who is now standing in Canada and is successful in Advanced Training tests. The stallion has the desired proportions of forehand, midsection and hindquarters, is constructed uphill with a beautiful neck and good movements in the basic paces as well as over the jump. Heling had an excellent start in his career as a sire in 1994 with very uniform foals, the majority of which, however, all come from one breeder. Compact foals with good expression, usually improved croup formation and remarkable movements with respect to push-off, degree of impulsion, knee action and ground cover."
Additional data published in the March 2000 edition of Trakehner Hefte (Germany) rank Heling as the # 1 living producer of overall gaits, the # 1 producer of the walk, and gave him an overall score of 142 points for total breed value, placing him in the top 10 of all of Germany. He was also listed as increasing the offspring's height by 1 cm. over the dams height, ranking him # 2."
HELING is an amazing addition to the Galten Farms breeding program – he is undeniably one of the best stallions in the Trakehner breed today!

---
Pedigree Chart
Bukephalos
Insterfeuer
Pelion

Altan

Pellerine

Insterfreude
Hansakapitaen
Insterburg
Balleyvergin Lady xx
Seminole II xx
Nasrullah xx
Banish xx
Some Sister xx
Ossian II xx
Noble Service xx
Halima
Consul
Swazi xx
Herero xx
Sayonara xx
Pr. St. Cornau
Lothar
Corry
Hella XI
Postillion
Virgil
Pleetz
Hollunda
Komet
Hollus