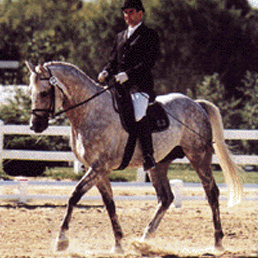 Aberdeen
Sire Hänsel
Dam Aida *E*
Dam Sire Händel
Foaled March 16, 1990
Age 23
Color Gray
Height 17 hands
Sex
Aberdeen demonstrated remarkable versatility as a performance horse. Early in his career he competed very successfully through Second Level dressage and at Training Level eventing. He was used lightly at stud, producing only 9 registered offspring prior to being sold and gelded in 1998 to pursue a career in the hunter ring.
As a hunter he was renamed Oyster Pond and achieved even greater success. In 1999 he finished 16th in the Nation in Green Conformation Hunters with many notable A-circuit championships including the Palm Beach Winter Equestrian Festival Circuit Championship. In 2001 he was sold again but continues to accumulate wins in the Children's Hunter division demonstrating his even and generous temperament.
In 1995-1996, his first year of competition, ABERDEEN competed in 23 classes in Second Level dressage, winning thirteen of them and topping the year as Second Level Champion Dressage Horse at Dressage at Lamplight in Illinois. Also, in his first year of competition, ABERDEEN competed in three training level events, each time placing in the top three. Since his sale to Dr. and Mrs. Kenneth Garber, Aberdeen has been competing as a hunter and doing very well under the name OYSTER POND. Check our news page to see some of his latest results! Although he has now been gelded it is still possible to breed to this "stallion", as we have stored a quantity of frozen semen. ABERDEEN offers one of the best sport horse pedigrees available in the world today. His dam, AIDA, was a top level Grand Prix jumper and competed for Canada under Jim Elder. His sire, HÄNSEL, was the winner of many A-circuit Hunter championships in the U.S. and also competed successfully at the Third Level dressage and at the preliminary level in 3-Day Eventing.
Approved American Trakehner Association and Canadian Sport Horse Association.

Video ---